The use of the logo is restricted by certain rules.


The Ministry's logo consists of three parts:
Logotype (name)
Logo (the red bar with the Danish coat of arms)
Angle line or horizontal bar
The logo is a complete unit, i.e. the placement of the coat of arms in the red bar is fixed and the red bar must not be extended or otherwise manipulated.
As a general rule, the logo is combined with either an angle line or a horizontal bar. For instance, an angle line is used in the stationery line, while the logo with horizontal bar is a fixed design element in publications. In some cases, an angle line/horizontal bar may be replaced by a photo, for instance in PowerPoint.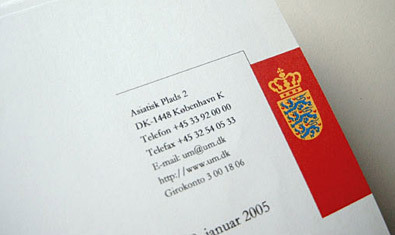 Example of logo with angle line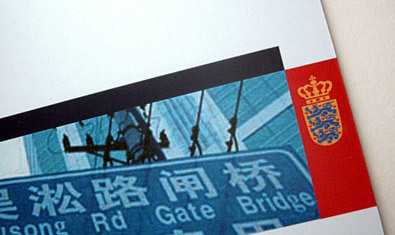 Example of logo with horizontal bar
For publications the horizontal bar may be dark blue. For websites the horizontal bar may be blue-grey. For advertisements the horizontal bar may be transparent white/dark blue/blue-grey.
The standard size of the logo is 12x36 mm for all of the Ministry's standard publication formats (see formats, publications) and for all advertisement formats. However, for stationery, the standard logo size is 16x48 mm.
Creation of logotypes
The official logotype can be altered to suit the organisational or geographical differences within the foreign service. Please download the logotype overview in the upper right side margin to see the official variations. If you have any questions, please contact KOM.

Especially for word processing programs
The logo package contains a colour and a b/w version of the logo in jpg format. To ensure optimum quality for printing, the logos are produced as 400% of the logo size for publications, which means that the logo must be scaled down when placed in Word. To ensure that the scaling is proportional, hold the "Shift" key down while scaling.